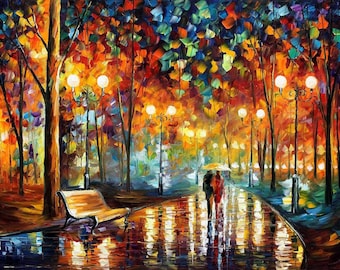 I've seen this photo a dozen times but today it inspired something in me :
A burst of color at the center; soft yet sharp.
Pit.
Pat.
Rain. Heavy rain.
Of course.
There's always rain.

It should be gray.
Muggy,
Dark.
But for some reason it wasn't.

The rain was somehow fresh.
Cleansing, almost.
In a way that made the leaves sparkle.

Those leaves.
Those fucking leaves.
The ones that started on dead branches covered in snow when we first met.
The ones that burst to life as the weather turned warm when we first fought.
The ones that swayed gently in the even warmer wind when we first fell in love.
The ones that now sit speckled on the barren branches while we say goodbye.
A final goodbye.

Damn those leaves.
Damn those trees.
Damn this whole night to hell because you've never been more heartbroken and she's never looked better and this damn rain is just making her eyes sparkle; literally, sparkle, just like the leaves and the pavement and the grass surrounding; she just sparkles.

And you have a thousand words bubbling up inside of you but you can't speak. You can't say a fucking word.

So you just watch her sparkle.
And you just watch her go.
-KA